Our Founder, Bob Murphy
Founding Attorney Continues to Influence Murphy Desmond S.C.
Since 1931, the law firm of Murphy Desmond S.C. has continued to operate with the principles and code of ethics set forth by its founder and beloved leader, the late Robert B. L. Murphy. Legal integrity, efficiently rendered services and commitment to community remain at the core of the firm's existence.
This philosophy seems to have served our firm well. In 2010, 2011, 2012 and 2013, Murphy Desmond received the honor of a "#1 Preferred Law Firm" by In Business magazine's Executive Choice Awards. We are rated AV (top rating) by Martindale-Hubbell, and are listed in U.S. News & World Report's "Best Law Firms" rankings in several areas of law. In addition, the firm consistently receives high marks for its attorneys, such as Best Lawyers in America, Wisconsin Super Lawyers, Avvo, Martindale Hubbell, lawyers.com and other lawyer organizations.
"We're pleased with the accolades we have received, and we know we cannot take them for granted," said Tim Valentyn, President and Managing Partner. "We keep working hard for our clients."
Servicing Clients Throughout Wisconsin

Murphy Desmond moved into our current office on the Capitol Square in Madison in 2007. Our spacious office on Block 89 offers a modern décor, flexible use of space, significant natural lighting, and comfortable meeting rooms for clients.

Also in 2007, we opened an office in Janesville, Wisconsin. We have since become a strong and active business partner throughout Rock County. The Janesville office relocated downtown in June 2013, and continues to focus on business law, real estate, family law/divorce, criminal law, litigation and immigration.

In October 2013, Murphy Desmond opened a law office in Appleton to serve the Fox Valley. The Appleton office assists clients in immigration, estate planning, employment law for public and private sector organizations, municipal law, real estate, and business bankruptcy and reorganization.
The firm expanded our practice areas in 2012-13 by adding highly experienced lawyers in immigration, criminal law, and licensed professional defense. Murphy Desmond has developed a sizable Spanish-speaking law practice, which includes lawyers and staff in several practice areas, all fluent in Spanish, to serve the growing Latino community.

"We are proactive in meeting our clients' current needs and potential future legal needs," said Valentyn. "It's that forward thinking, coupled with a sense of urgency, that helps set us apart."
Bob Murphy was a visionary and insightful leader of the firm since the beginning. Although he passed away in September 2001 at the age of 95, attorneys at Murphy Desmond still consider it to be Bob Murphy's law firm. Thus, we work to maintain the standards set forth by Murphy, who served as the firm's first law clerk when it opened in 1931 under the name of Kuehl & Crownhart. (When Murphy became a partner in 1932, the name was changed to Crownhart & Murphy. John Desmond joined the firm in 1955, and after several name changes, the firm was called Murphy & Desmond in the mid-1980s and simply Murphy Desmond in 2002.)
Committed to the Community - Then and Now

Bob Murphy was a highly respected philanthropist in the community. So, naturally, his law firm was ahead of the times in its charitable causes, and commitment to the community was part of our founding mission. Today, the firm's devotion to the community remains strong, and it proudly supports health and human services, the arts, athletics, business development activities and other needs.

"We're well-grounded in the Madison community," said Valentyn. "We are out there contributing financially and volunteering our time."
Bob Murphy wouldn't have it any other way.
"Robert Murphy was the epitome of a caring and compassionate gentleman with outstanding integrity and commitment to the morals he taught to others," said retired paralegal Jane Ring, who had been with the firm for over 40 years.
"The firm is fortunate to have Bob's legacy as our cornerstone," said Valentyn. "His character will continue to influence decisions the firm makes -- as attorneys and as a business."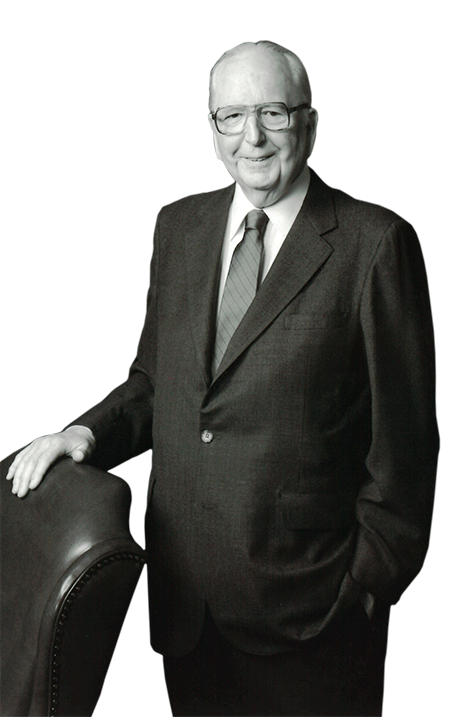 For All Your Legal Challenges
With nearly 40 lawyers in a wide range of practices, Murphy Desmond S.C. can assist you in all of your business and personal legal needs. Since 1931, our firm has worked to achieve our clients' goals in a timely, cost-effective, and final manner.
When choosing a law firm, choose lawyers and a firm that has consistently been recognized for excellence over the years.
For a consultation with Murphy Desmond, call 608.257.7181 or send us an e-mail. Our firm has offices in Madison, Janesville, and Appleton, and serves clients throughout Wisconsin.