Attorney DeKraay Leads Guardian ad Litem Training 2023 for Wisconsin State Bar
On May 11, 2023, Family Law Attorney Sarah DeKraay served as Program Chair and Panel Moderator for the Guardian ad Litem (GAL) Training 2023, held in Madison, Wisconsin.
The annual program, which is part of a PINNACLE series through the Wisconsin State Bar, is available to train attorneys, therapists, and other professionals commonly involved in Guardian ad Litem cases in Wisconsin Family Law Courts.
Sarah has been Program Chair and Moderator of this event since 2015. The training provides continuing legal education credits for attorneys by attending the in-person event or by watching recordings of this one-day seminar throughout the year on the State Bar website.
Sarah's practice includes working with families on legal matters including divorce, mediated divorce, custody battles, property division, post-divorce issues, and grandparent rights. She is included on Best Lawyers in America lists in Family Law.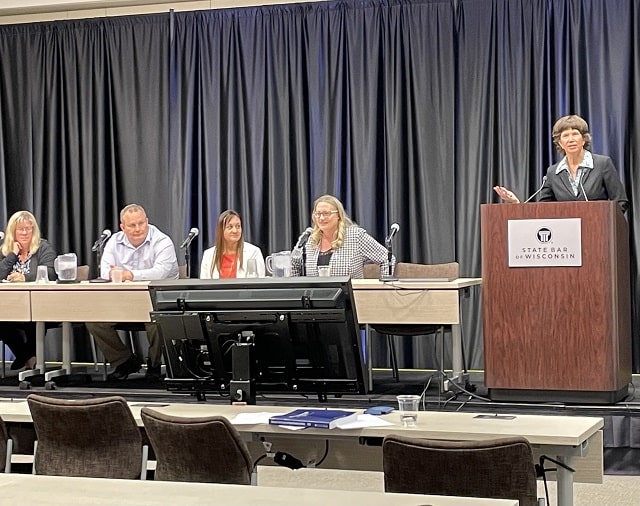 Attorney Sarah DeKraay (standing) serves as Moderator at Guardian ad Litem training on May 11, 2023, offered by the Wisconsin State Bar.
Published May 12, 2023