Our Founder, Bob Murphy
Founding Attorney Continues to Influence Murphy Desmond S.C.
Since 1931, the law firm of Murphy Desmond S.C. has continued to operate with the principles and code of ethics set forth by our founder and beloved leader, the late Robert Brady Lawrence Murphy. Those values include legal integrity, efficiently rendered services, and commitment to community.
Mr. Murphy served as the law firm's first clerk when it opened its doors in 1931. He quickly became an Associate upon earning his law degree from the University of Wisconsin Law School, and became a Partner in 1932.

"Bob" Murphy, as he was known to many, was a visionary and insightful leader from the start. Although he passed away in September 2001 at the age of 95, attorneys and staff still consider Murphy Desmond to be Mr. Murphy's law firm.

As a result, we work to maintain the standards set forth by Mr. Murphy, which has earned the firm numerous accolades over the years. Murphy Desmond is named a "Best Law Firm" in Madison by U.S. News & World Report, rated AV by Martindale-Hubbell/lawyers.com, and we have been listed in the top three law firms by In Business magazine's "Executive Choice Awards." In addition, the firm consistently receives high marks for its attorneys, such as Best Lawyers in America, Wisconsin Super Lawyers, Avvo "Superb" ratings, a top "AV" rating from Martindale-Hubbell/lawyers.com -- among other awards.

The firm has grown to include offices in Janesville (2007), Appleton (2013), and Dodgeville (2019). As a general practice law firm, our attorneys represent clients in areas of business law, estate planning, real estate, family law, and criminal defense. However, we have continued to grow niche areas of practice as well, such as immigration law and professional license defense. In addition, the firm has bilingual lawyers and a Spanish website for our Spanish-speaking clients.

Committed to the Community - Then and Now

Mr. Murphy was not only a lawyer of the highest integrity and character; he was a historian and a well-respected philanthropist in the community. After serving his country in World War II, he devoted much of his free time to charitable efforts, including volunteering with the Wisconsin Historical Society for over half a century. He taught at the UW Law School off and on throughout his career, and served on numerous boards. Mr. Murphy continued serving on boards and committees into his nineties, and he contributed to oral history projects for the University of Wisconsin-Madison.

Today, Murphy Desmond's devotion to the community remains strong, and we proudly support health and human services, the arts, athletics, and local business development. We still support the Wisconsin Historical Foundation as well, through the "Robert B.L. Murphy Legacy" Luncheon. Our attorneys and staff volunteer their time and resources to numerous causes, and the firm allows all employees to take a half day off with pay each year to serve our communities.

We believe Mr. Murphy wouldn't have it any other way.
"Robert Murphy was the epitome of a caring and compassionate gentleman with outstanding integrity and commitment to the morals he taught to others," said retired paralegal Jane Ring, who had been with the firm for over 40 years and knew Mr. Murphy well.
"The firm is fortunate to have Mr. Murphy's legacy as our cornerstone," said Zimmerman. "His character will continue to influence decisions the firm makes as we work hard to be a valuable resource to our clients and do our part in serving our communities."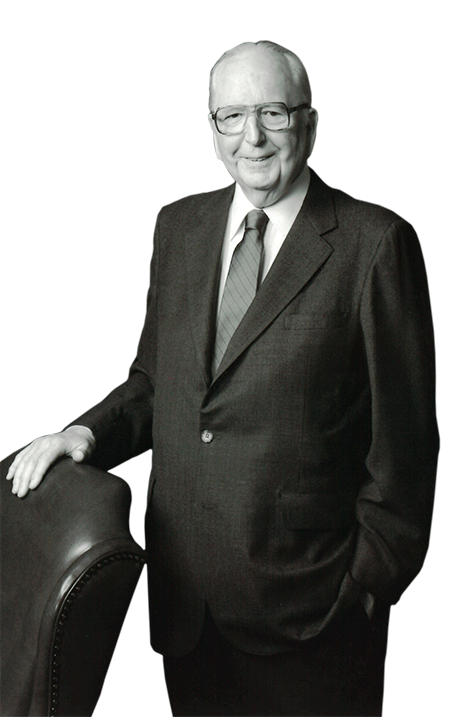 For All Your Legal Challenges
With approximately 30 attorneys in a wide range of practices, Murphy Desmond S.C. can assist you in all of your business and personal legal needs. Since 1931, our firm has worked to achieve our clients' goals in a timely, cost-effective, and final manner.
When choosing a law firm, choose lawyers and a firm that has consistently been recognized for excellence over the years.
For a consultation with Murphy Desmond, call 608.257.7181 or send us an e-mail. Our firm has offices in Madison, Janesville, Appleton, and Dodgeville, and serves clients throughout Wisconsin.